Below is a list of news items for the City of Moorhead with the most recent items at the top. If you would like to see news for a certain category, you can select it from the the drop-down box labeled (All Categories). Any news older than 90 days is automatically archived and removed from this list.
You can also subscribe to our eNotifications to automatically receive emails as we post news to the site.
Moorhead Police Respond to Armed Robbery
Post Date:
12/07/2018 5:30 am
On December 7th, 2018, at 2:19 am, a black male wearing a black inside-out hooded sweatshirt, jeans and a black facemask, entered the Holiday Gas Station and robbed the cashiers at gun point. Nobody was harmed during the robbery in which the male got away with an undisclosed amount of small bills. With the assistance of the Clay County Sheriff's Department and the Fargo Police Department, a K9 track was attempted, but unsuccessful. The attached photographs are of the suspect, who is armed and should not be approached. Moorhead Police are asking anyone who recognizes the male to contact the on duty supervisor at 218.299.5103.
Detective Sergeant Scott Kostohryz #201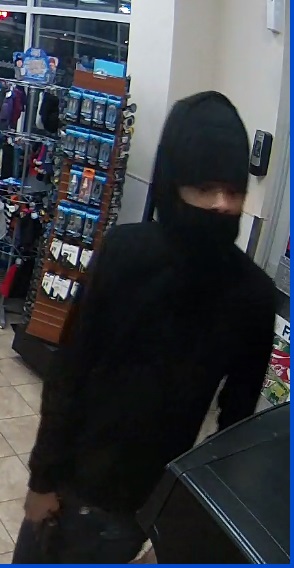 More >>