Moorhead Hit and Run Crash
Post Date:
02/18/2021 7:36 pm
On February 18, 2021 at 5:52 PM first responders responded to the 1700 block of 41 Avenue South for an injury crash involving a motor vehicle and a pedestrian. Red River Regional Dispatch Center received multiple calls reporting the incident.
The responsible vehicle fled the scene but was located a short distance away. The driver was detained. The victim was transported to Sanford Medical Center with non-life threating injuries. The driver and victim were not known to each other. Facts and circumstances leading up to the crash are still being investigated.
The driver, 30 year old Abby Rose Mckenna of Moorhead was taken into custody and being held at the Clay County Jail pending formal charges from the Clay County Attorney' Officer for:
Criminal Vehicular Operation – Felony
3rd Degree DWI Under the Influence of Alcohol – Gross Misdemeanor
2nd Degree Test Refusal – Gross misdemeanor
The Moorhead Police Department was assisted by the Clay County Sheriff's Office, Moorhead Fire Department and FM Ambulance.
There is no additional information to provide at this time
Sergeant Joe Brannan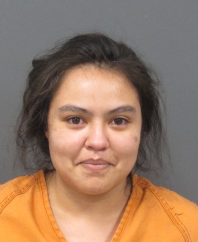 More >>