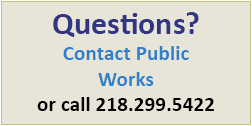 During the winter season, your Public Works Department gets started as soon as forecasts begin reporting potential snow events in the local area. If temperature and precipitation allows, we start by pre-treating the primary anti-ice routes with a brine solution or a brine/carbohydrate solution for lower temperatures to reduce the potential for icing and slippery conditions during the initial snowfall. Once the snow falls, Public Works crews hit the streets working to keep emergency snow routes open.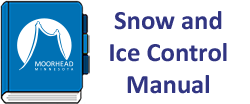 Primary snow routes are the first priority, followed by secondary routes. These primary and secondary routes are the major streets that keep traffic moving throughout Moorhead.
After the snowfall ends and the primary and secondary routes are cleared, Public Works crews begin city-wide plowing operations in 10 designated snow removal zones. Our goal is to plow all the streets within 24 hours after the snowfall ends. Additional snow, ice, and high winds can impact our ability to meet this goal; therefore, the timeline may be extended if another snow event follows closely behind. Public Works does not have the capability to run full 24/7 operations; however, we do stagger our manpower when necessary to provide around-the-clock coverage to apply sand/salt on primary and secondary intersections and to plow areas susceptible to drifting snow during high wind events. We maintain over 500 lane miles of streets, 24 alleys and 240 cul-de-sacs and bulbs. In addition to plowing, we clear snow in the downtown areas and haul it away to a snow storage location.
What is our Snow Removal Process and Schedule?
Pre-treatment/Anti-Ice Phase:
Anti-icing is a proven technique to improve road conditions during snow and ice events and improves effectiveness of plowing after snow and ice events. A brine solution blended with a carbohydrate additive is used depending on pavement surface temperature. Anti-icing will take place prior to a snow or ice event if the appropriate weather and road conditions exist. Anti-icing will be conducted along primary anti-ice routes and typically when streets are dry, winds are less than 15 mph and there is no blowing snow. The Public Works Director is the decision authority for anti-icing applications.
Pre-treatment will not be completed before every event. If winds are too strong, temperatures are too low, and roads are too wet, pre-treatment is not effective.
Phase I: Primary and Secondary Snow Emergency Routes:
Plowing primary and secondary routes occur shortly after snow falls and as snow begins to accumulate in excess of 1-2"
Our goal is to keep the busiest streets that carry the most traffic as clear as possible before moving on to residential areas
Several passes on the primary and secondary snow routes may be completed during a prolonged snow event if necessary
In addition to plowing, salt/sand trucks will apply salt, salt/sand, or sand (depending on the temperatures and conditions) to the intersections along primary and secondary routes and on bridges
Treated salt may be used in certain circumstances where temperatures are lower and on bridges where persistent melting is required to improve safety and prevent freezing
Snow is moved from the center of the street to the curb and placed as equitably as possible on the boulevards
Phase II: City-wide Plowing:
After the snow stops, crews begin plowing the 10 snow removal zones. The goal is to complete an initial pass on both sides of all streets within 24 hours after the end of the event
The objective of the first pass on residential streets is to provide clear driving lanes quickly as possible, which may result in snow not being pushed all the way back to the curb


Equipment will return on your daily maintenance day to push back snow closer to the curb<
Additional snow events may impact your daily maintenance route as crews will be clearing new snow

Typically, city-wide plowing will start between midnight and 4 am (depending on the estimated end time of snowfall)
Depending on the amount of snowfall, it may take crews 10-14 hours to clear all the streets city-wide
Typically, salt or salt/sand, will not be applied in residential areas. Use of ice control may be used on residential streets intersecting primary or secondary routes.
Public Works staff will not clean private driveways or sidewalks
Plows will not return if a car is left on the street with snow plowed around it until your daily maintenance day
Process for cul-de-sacs


Small snow events: Snow is plowed to the outside curb.
Large snow events (typically events 8" or greater): If an snow event predicts snow greater than 8", the Public Works Director may direct crews to push snow to the center of the cul-de-sac and hauled away later. Hauling snow may take 1-2 weeks depending on future snow events. Please note pushing snow to the center and hauling it is not standard operating procedure and is only considered when necessary to maintain safe emergency access. Also, hauling snow from the center of the City's 240 cul-de-sacs costs nearly $150,000 per event.

Parks Maintenance crews will begin clearing bike paths and city-maintained sidewalks after the snow fall ends, typically starting at the beginning of the next regularly schedule workday at 7 am
We have 46 miles of bike paths and city-maintained sidewalks


Our goal is to clear these areas within 24 hours of the end of snow event
It may take 48-72 hours after heavy snowfall events if there is too much snow for pickup truck/Tool cat plows and brooms. The process takes much longer if we need to use snow blowers to clear paths and sidewalks.

Stakes are sometimes placed to identify curb locations to equipment operators. Please do not remove them.
Phase III: Daily Maintenance Routes:
After the initial clearing, a second pass will be made during your next scheduled street maintenance day
Streets staff stay 1-2 feet away from mailboxes to prevent damage and will not plow out space around the mailbox
Signs are posted on streets designating your scheduled maintenance day. Or you can contact Public Works at 218-299-5422 and ask us which day is your maintenance day.
Please note, your maintenance day may be different than your garbage day. Daily maintenance routes don't always coincide with the time it takes to run garbage routes.
If a holiday falls on your maintenance day, the second pass will occur on the next non-holiday maintenance day.
Crews do their best to minimize the snow left in driveways; but, there simply is no way to avoid or prevent accumulation of snow on driveways and sidewalks. City crews do not clear snow from private driveways and sidewalks.
Salting/Sanding

Salting and/or sanding occurs both during and immediately following a snow or ice event on the primary and secondary snow routes. The proportion of salt and sand will depend on temperature. Snow and ice removal crews will salt and/or sand the residential streets after the initial snow is cleared. Residential streets treated with salt and/or sand will primarily be in higher traffic areas and residential streets feeding into primary or secondary snow removal routes. Requests for salt/sand can be made by contacting Public Works at 218.299.5422. If it is an emergency after normal operating hours( 7am-4:30pm, Monday-Friday), call Red River dispatch at 701.451.7660 and they will contact a salt/sand truck if they are running or dispatch will contact a Public Works on-call employee to respond.
How can residents help during snow and ice removal operations?
Snow plowing operations are challenging and require intense concentration. Your Public Works crews take great pride in the job they do and they work long hours keeping our streets safe. But, we need your help to operate safely and efficiently.
Limit on-street parking during and after snow events until the plows have cleared your street

We understand not everyone has the space in their driveway for all their vehicles, but every vehicle parked on the road presents a hazard for our plows and inhibits our ability to properly and efficiently clear the road on the first pass
If snow is left in the street due to parked cars, a plow won't be by until your scheduled maintenance day
Do not shovel, plow, or snow blow snow or ice back on the street when clearing snow from your driveway or property
It is against both State of Minnesota law and City Ordinance to place snow or ice back on the street when cleaning your property. No business or resident is to move snow or ice across a street without physically picking it up and moving it. If you see anyone placing snow or ice back onto the street, please report it to Police or call 218.299.5120. Violators will be fined.
Consider timing the removal of your driveway snow until after the snow plow clears your street We understand this isn't always possible; however, this may elevate some of the frustration of having to clear your driveway twice
Please provide equipment operators a wide area to maneuver, do not try to pass a snow plow, and do not attempt to talk to the operator


Operators have been instructed to continue working when approached
They are following City policy and attempting to talk to them slows down the snow removal process

Never place garbage or recycling totes on top of snow banks.


Garbage carts should be placed within 4 feet of the curb line, but at least 2 feet from any snow banks
If snow is more than 4 feet wide, garbage crews will still get the containers placed behind the curb line
If you have questions regarding snow removal, please contact Public Works at 218.299.5422 or at Public Works.
Your Public Works crews are ready for the snow season! Thank you for your patience and understanding during snow removal operations.
Snow Removal Districts
During a Snow Removal Declaration, special parking rules take place in the Snow Removal Districts of the city. These parking restrictions allow City crews to better plow roads and for emergency vehicles to travel safely. Snow Removal District enforcement areas are marked with the sign shown to the right.
In order to clear the roads effectively, vehicles in violation of these parking rules will be towed at the owner's expense.
Please see the Snow Removal District page for more information and to sign up for notifications when these parking restrictions are activated.
Parking Restrictions
Snow emergencies are declared because of falling snow, sleet, freezing rain, or when a forecast by the National Weather Service indicates that weather conditions could create hazardous travel conditions. Snow emergencies are declared to free up hazardous roadways for movement of fire, health, police and emergency traffic, as well as to ensure the safety of the community.
Parking restrictions on snow emergency routes take effect:
During a snow emergency, parking prohibition on primary snow emergency routes takes effect.

Parking prohibitions may also be placed on secondary snow removal routes. While this additional prohibition is in effect, no person can park on a secondary snow removal route between midnight and 8 pm.

When there is an accumulation of at least 3 inches of snow for one hour or more.

These restrictions apply between 6 am and 11 pm.
During a snow emergency, vehicles must be moved for plowing. If your vehicle is parked in violation of the snow emergency rules, it may be towed.
View the snow emergency route map.
Shoveling Your Sidewalk
Property owners are responsible for removing snow and ice from the sidewalks adjacent to their property. City ordinance requires that snow and ice must be removed from the sidewalks prior to 9 pm each day. If snow and ice are not removed, it may be removed by City personnel, with costs for snow removal and an administrative fee assessed against the property.
For more information, email Neighborhood Services or call 218.299.5434.