General Information:
The Emerald ash borer (EAB) is a wood-boring insect native to Asia. It was first detected in the United States in Michigan in 2002, and by 2009, EAB had been discovered in St. Paul, MN. This invasive beetle has been found in 35 states and 5 provinces, killing hundreds of millions of ash trees. As of April 2021, EAB has made its way as far as Sauk Centre, MN. It has also been found in Sioux Falls and Winnipeg. Because ash trees make up approximately 27% of Moorhead's urban forest, this is an important pest to plan for.
Adult EAB beetles feed on ash leaves throughout the summer and lay eggs on the bark of ash trees. After hatching, EAB larvae tunnel beneath the bark, where they feed on the tissue that transports nutrients within the tree. As they feed, they make distinct "S" shaped galleries. Larvae will go dormant and overwinter in the outer sapwood of the tree. They pupate in the spring under the bark, and between May through September, the adults will emerge from the bark and make "D" shaped exit holes.

EAB is difficult to detect in the early stages of an infestation. It typically takes 3-7 years for a community to notice an infestation. If no action is taken to control the infestation, 80% of the trees will be killed from years 7-12 of an infestation. Moorhead does have the benefit of cold winters. If the actual air temperature (not windchill) reaches -20 degrees Fahrenheit, up to 80% of the larvae
can be killed. Because researchers in Minnesota are not sure how much the local
climate will control the population growth of EAB, and climate change could make this climate more suitable for EAB, many communities are making plans to deal with an infestation and not get caught off guard. Dead ash trees are brittle and hazardous after they die, so it is important to have a plan in place to prevent a massive die-off of these trees.

Chemical treatments to combat EAB are available; the most effective being trunk injections of emamectin benzoate applied by a professional pesticide applicator. Treatment is not recommended until EAB is confirmed to be established within 15 miles of the area.
Residents can direct questions or report concerns to Forestry.
Options for Homeowners
Because EAB is so devastating to the ash tree population, it is important for homeowners to start planning for what they would like done with their private ash trees. First of all, homeowners should know how to identify ash trees. The Minnesota Department of Natural Resources has an excellent resource here.
Secondly, after the ash trees have been identified on the property, residents should assess their condition and size. If they are small or unhealthy, it may make more sense to remove them now and get a new tree planted sooner rather than later.
If there are large, healthy trees on the property, a homeowner could look into the treatment options available. A trunk-injection of emamectin benzoate provides two years of excellent protection against all stages of EAB larvae and feeding adults.
For optimal tree health outcomes, most sources recommend treating a tree if there is an infestation within 15 miles of your property. Trees should only be treated if less than 30% of the canopy has thinned. Monitor the trees closely and learn the signs of an infestation to be able to treat the trees in time to keep them in optimal health.
If homeowners opt to do nothing until a tree is infested, Forestry will be scouting for infested trees on public and private property. If a private tree has EAB, the city will require that the tree be removed in order to stop the population growth of EAB. If homeowners cannot get it removed, the city will hire a contractor to remove the tree and the cost will be assessed to the property.
Dead ash trees become extremely brittle and hazardous to people and property, and they are more expensive to remove after death. It is financially-beneficial to get a plan in place to remove an ash tree before it has died if there is an infestation nearby.

The City of Moorhead's EAB Management Plan
Once a city is infested with EAB, all ash trees are expected to be killed without treatment. Some cities are planning to proactively remove all ash trees, while other cities are going to treat all their ash trees with trunk-injected insecticide treatments.
When an infestation is close to Moorhead, treatments of high-value public trees will begin. The Forestry Division has been proactively removing marginally-healthy and small ash trees as the workload allows, but in the event of peak infestation, removals will need to be contracted out due to current staffing levels. Once EAB is present, treatment will need to be continued until all untreated ash trees in the area have been killed or removed, and this could take 10-20 years or more. For high-value trees in areas of high ash tree density, the Forestry Division will try a method called the SLAM approach. SLAM stands for Slow Ash Mortality. For the SLAM approach to work, it is believed that 40% of ash trees need to have insecticide in their tissue at any given time. This means that 20% of the trees need to be treated annually to provide herd immunity for other trees within 60 feet of the treated trees. Emamectin benzoate will be used for this approach because it is effective for at least two years, risks to non-target species are low, it is extremely effective, and there are no limits to the number of trees that can be treated in an area. For more information on the insecticide options available, please read the City of Moorhead's Emerald Ash Borer Management Plan once it is made available to the public.
A priority list of trees to be treated will be created based on their health, size, condition, and proximity to other trees. If citizens would like to treat ash trees on the boulevard adjacent to their property that are not on the list of ash trees to be treated by the city, a permit will be required, and the homeowner will need to pay for the treatment.The information from this permit will help the city track which trees are being treated and will be considered when developing future work plans to manage EAB.
Stay tuned for updates on the EAB management strategy and which trees will be chosen for treatment on the boulevards. This is subject to change as research progresses.
Signs and Symptoms on an EAB Infestation
We can all help detect and start controlling an EAB infestation early by learning the signs of an EAB-infested ash tree. Learn how to identify ash trees here, and please monitor the trees in your yard and on the boulevard. An EAB infestation is very difficult to identify in the early stages. Some symptoms of EAB mimic symptoms of common ash health problems in the area, such as lack of water, nutrient deficiency, storm damage, etc. However, if you notice extensive woodpecker damage to a tree, be on the lookout for bark splits and S-shaped galleries. Start looking for symptoms in the upper canopy with binoculars, since that is where an infestation will begin. Look for the following symptoms, and contact the City of Moorhead Forestry Division if you have questions for concerns.
Woodpecker Damage:
Bark Splits:
D-Shaped Exit Holes:
S-Shaped Galleries:
Canopy Thinning: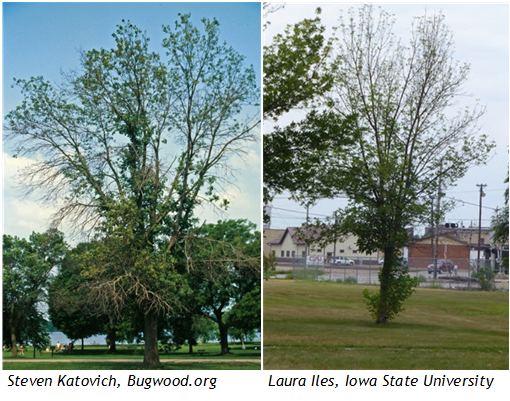 How Anyone Can Help Prevent and Manage EAB:
The biggest way to help prevent EAB spread is to only buy firewood where you will burn it. EAB beetles only spread one mile per year naturally. Humans spread it much faster by accidentally moving EAB-infested firewood or other wood products.
It would be helpful for Moorhead residents to learn the signs and symptoms of EAB infestations as they get closer to Moorhead. If homeowners see signs of an infestation, report it in the following methods:
1. Contact the City of Moorhead Public Works Department and request Forestry personnel to inspect the tree. Submit an inspection request by Contacting Forestry or call Public Works at 218-299-5422.
2. Contact Arrest the Pest via email or by leaving a detailed phone message at 1-888-545-6684.
3. Send a report through the Great Lakes Early Detection Network App.
4. Login or create an EDDMaps Midwest account and submit a report.
Useful Links for More Info:
Homeowner Guidance
Identify Ash Trees (Minnesota DNR)
Emerald Ash Borer (Minnesota DNR)
Emerald Ash Borer Management Options. (Iowa State University Extension and Outreach)
Insecticide Treatment
Frequently asked questions regarding side effects of systemic insecticides used to control emerald ash borer. (University of Minnesota Extension, Michigan State University, and Ohio State University OARDC Extension)
Label Guidance for Use Limits. (Minnesota Department of Agriculture)
Emerald ash borer urban SLAM (Slow Ash Mortality) program-lessons learned. (Emerald Ash Borer University)
Chemical Control for EAB. What Works, What Doesn't and Why. (Emerald Ash Borer University)
Emerald Ash Borer Insecticide Guide (Minnesota Department of Agriculture & Minnesota Department of Natural Resources)
Effects of Emerald Ash Borer Treatments on Pollinators. (Emerald Ash Borer University)
Cold Tolerance
How Cold is too Cold for Emerald Ash Borer? (Minnesota DNR)
Cold Hardiness of Emerald Ash Borer. (Vennette and Abrahamson, 2019)
The Unusual Case of Emerald Ash Borer in Minnesota. (Emerald Ash Borer University)