Below is a list of news items for the City of Moorhead with the most recent items at the top. If you would like to see news for a certain category, you can select it from the the drop-down box labeled (All Categories). Any news older than 90 days is automatically archived and removed from this list.
You can also subscribe to our eNotifications to automatically receive emails as we post news to the site.
Resilient Moorhead wins MoorHeart award
Post Date:
08/08/2022 7:00 pm
Congratulations to Resilient Moorhead! On August 8, the Moorhead City Council and Mayor Shelly Carlson presented the organization with the MoorHeart award.
Resilient Moorhead is a nonprofit organization committed to advancing community resilience and preparing Moorhead for current and future challenges. Resilient Moorhead encourages Moorhead residents to promote adaptability, health, equity, and good governance for themselves and their neighbors.
Resilient Moorhead was established to position Moorhead to anticipate, adapt, and flourish in our ever-changing world. Resilient Moorhead rose out of the Moorhead Community Resilience Task Force, formed in 2019 at the initiative of Concordia College and through the efforts of Ken Foster and Tim Hiller. Its work has been funded by a Bush Foundation Community Innovation Grant, administered by Concordia. Over the past three years, the 21 stakeholders have collaborated to support a variety of projects, research, and community-wide initiatives, such as the Comprehensive Planning process. This year, Resilient Moorhead has supported a process to promote equity, ecological health and community engagement.
The nomination includes the following statement:
"Resilient Moorhead's link tree website is amazing in connecting all other important organizations, programs, and news and uniting them in one place where community members can come together and understand how they can become better involved and prepared with current happenings in our neck of Minnesota/the world. This allows the Moorhead community to be better connected in different mitigation and transition strategies. Without the task force putting their efforts toward helping the community, so many would still be lost and/or trying to understand the honest truth. Kenneth Foster and the rest of the task force are an inspiration. I am deeply grateful and proud to be able to call him a friend and excited we have awards like these to show our appreciation for those who serve their communities in so many ways."
For all Resilient Moorhead does for Moorhead –- and especially for the way the group has emphasized strong collaboration tactics for common areas of concern -- the MoorHeart selection committee chose Resilient Moorhead to receive the MoorHeart award. Congratulations to Resilient Moorhead for creating a community where people can better care and support one another.
The MoorHeart award is an opportunity to recognize individuals who go above and beyond to demonstrate community within our City by their actions and service. A team of volunteers from city boards and commissions selects award recipients. The MoorHeart award is commemorated with a piece of art commissioned from Moorhead-based artist Karman Rheault especially for this purpose.
Information on nominating individuals/organizations for the MoorHeart award can be found at cityofmoorhead.com. (Search for MoorHeart Award.) Contributions large and small are worthy of nomination!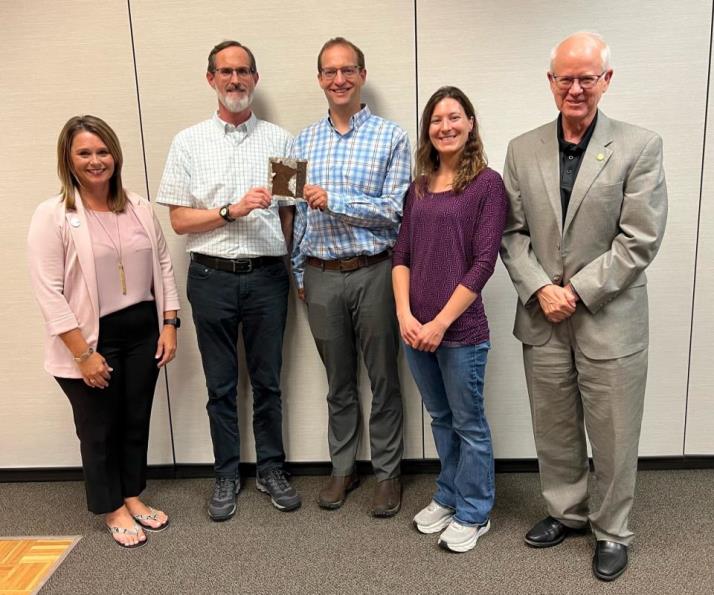 More >>