Project Vital Statistics as of July 7, 2022

Total Contract Work Completed: >90%
Both the BNSF and OTVR railroad tracks are completed and operational.
100% of excavation completed.
100% of structural support piling installed.
100% of retaining walls constructed.
90% of concrete paving, curb and gutter, and sidewalks completed.
Upcoming Milestones
Complete concrete road paving and curbs/gutters (July 15)
Complete concrete sidewalk and median paving (July 22)
Complete roadway signage and pavement markings (week of July 18)
Complete street lighting (week of July 11)
Complete traffic signal at SE Main|20 Street|21 Street (week of July 18)
Open underpass to traffic (anticipated July 22)
Complete BNSF wye track and close 1 Ave S to through traffic (late July through end of September)
Major Road Closure/Detour Continues:
Traffic should use either 1 Ave S, 12 Ave S, or Highway 10 as an east/west route and 34 St S or 8 St S as a north/south route. Closure of the intersection of SE Main and 20 St|21 St (all directions) will remain in place, likely until June 2022.
Other Travel Impacts:
20 St from 8 Ave to 6 Ave is now open, however, 20 St north of 6 Ave remains closed
21 St S from 2 Ave S to 4 Ave S and 4 Ave S from 21 St S to 22 St S is open to traffic, one lane in each direction
Main Ave from 17 St S to 19 St S and 19 St S from Main Ave to 4 Ave S is open to traffic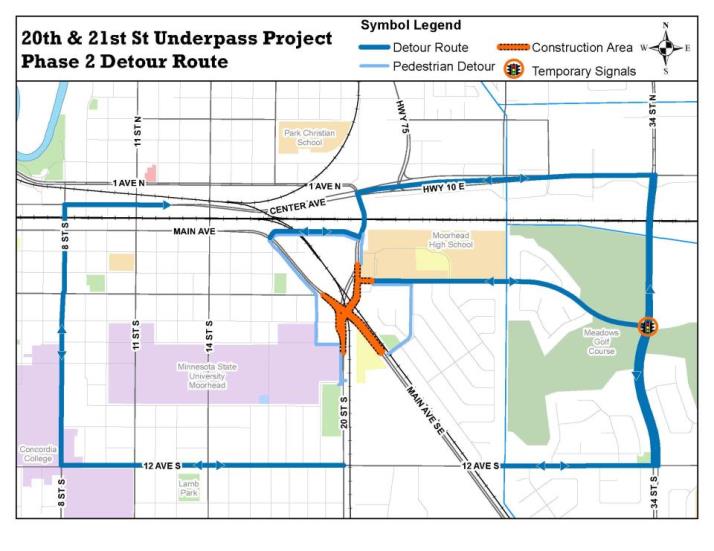 Project Description
The proposed project will reconstruct and realign the intersection of SE Main Ave and 20 St|21 St to pass under new bridges that will carry the BNSF and Otter Tail Valley Railroad tracks over the streets. The project will result in improvements to safety and congestion for vehicles, bicycles, pedestrians, and emergency services.
The project also includes the construction of new track (called a wye) that will allow direct northbound to eastbound and westbound to southbound train movements. Under existing conditions, trains must travel into the Downtown area, stop, and reverse direction to make these movements. The wye will eliminate delays at the Downtown crossings associated with trains backing up. Construction of the wye will require the closure of 1 Ave S near the wye track.
Project Layout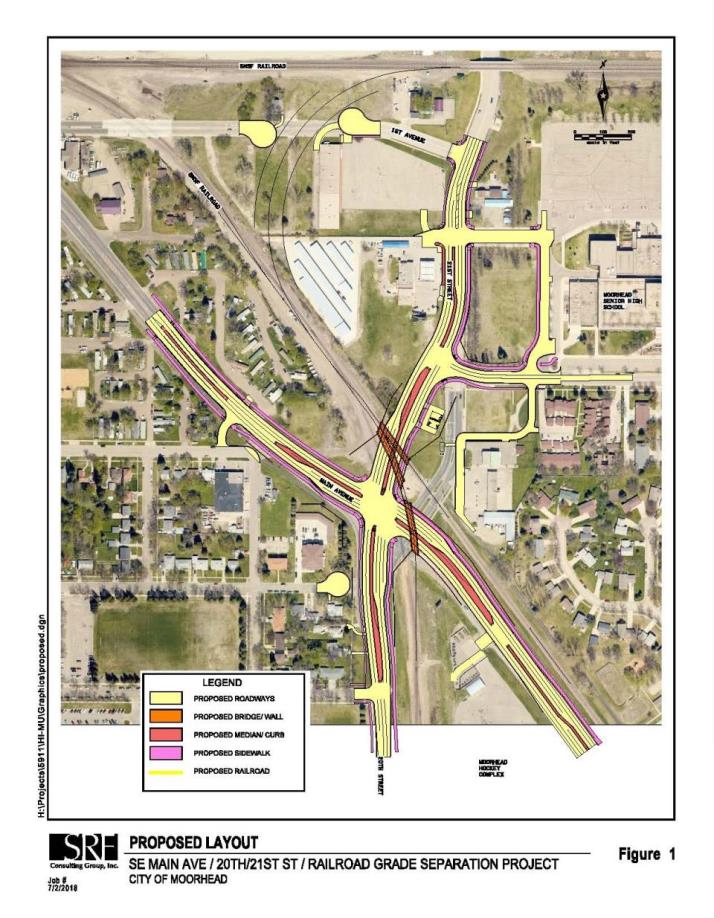 City Contacts
Tom Trowbridge, Assistant City Engineer
General Construction Questions 218.299.5395
Jon Atkins, City Traffic Engineer
Detour and Traffic Concerns 218.299.5388
Levi Hockett, City Inspector
Specific Construction Questions 218.299.5396
For Other Inquiries
Contact the Engineering Department
Additional Information
Animated Depiction of SE Main|20 St|21 St Grade Separation Project
SE Main|20 St|21 St Grade Separation Project Layout
May 23, 2018 - Public Info Meeting, Slide Show Presentation - SE Main|20|21 St Railroad Grade Separation Project
May 29, 2018 - Public Hearing, Slide Show Presentation - SE Main|20|21 St Railroad Grade Separation Project
July 11, 2018 - Community Information Meeting - SE Main|20 St|21 St Railroad Grade Separation
July 16, 2018 - Underpass Ground Breaking Ceremony - SE Main|20 St|21 St Railroad Grade Separation
August 12, 2021 - Underpass Open House - SE Main|20 St|21 St Railroad Grade Separation FAQ