Below is a list of news items for the City of Moorhead with the most recent items at the top. If you would like to see news for a certain category, you can select it from the the drop-down box labeled (All Categories). Any news older than 90 days is automatically archived and removed from this list.
You can also subscribe to our eNotifications to automatically receive emails as we post news to the site.
Construction Update: SE Main|20 St|21 St Underpass Project
Post Date:
09/24/2021 12:11 pm
As of September 23, the project is approximately 82 percent complete. Construction has started on the 3rd bridge (BNSF railroad over SE Main Ave). Setting of beams will begin the week of September 27, and the bridge completion is anticipated by the end of October. Other things to note:
Concrete bridge decks are complete for two bridges over 21 St: one for BNSF Railway train traffic and the other for Otter Tail Valley Railroad traffic.
OTVR railroad track is completed and operational. BNSF trains will continue to use the temporary BNSF railroad track (shoo-fly) until approximately the end of October, when the permanent track is expected to be installed.
Approximately 70% of excavation has been completed (204,000 cubic yards).
Approximately 80,000 feet of structural support piling (80% of total contract amount) has been installed.
A second period of night construction is expected to follow completion of the BNSF permanent track in mid-November 2021. More details will be shared closer to that time.
View more information by visiting the project page at cityofmoorhead.com.

Engineering Department, 218.299.5390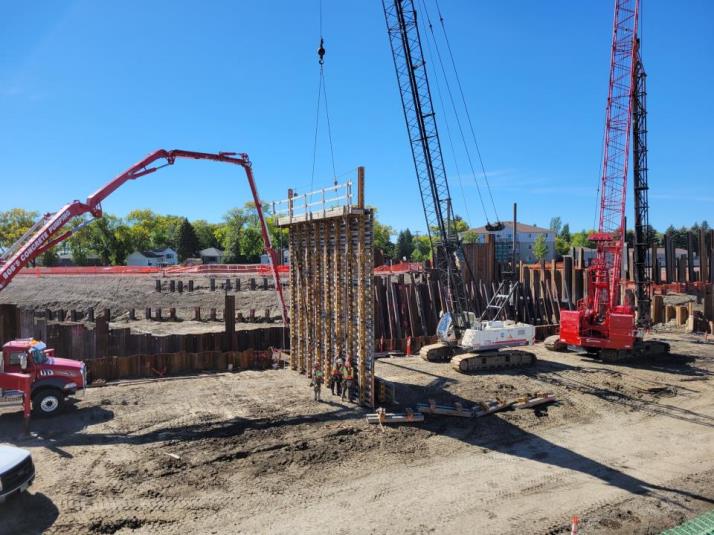 More >>